Here's to our prizefighter's at Redstone
Our amazing team of employees is always ready to the fight for the safety and well being of our residents, families, and fellow staff members. We couldn't be prouder of this crew of prizefighters!
Employee Spotlight: Emily Hill
Emily Hill has been with Redstone for nearly 3 years. She started as a Split Hospice Chaplain and Campus Chaplain at North Huntingdon. She spent her time leading worship services, singing and playing the piano and guitar, presiding over funerals, offering support to patients and families, conducting Bible Study, and coordinating a spiritual life for various faith-based backgrounds. Emily's desire to 'do more' will soon grant her courage as she makes a transition into her new role of Personal Care Home Manager. "My background is in social work so this is familiar territory and it's an opportunity to have a greater impact on the daily lives of the Personal Care residents and their families," she says, "I also want to show my daughters that you can do anything you put your mind to, even if it's a totally new kind of adventure." Emily's favorite thing about working at Redstone is meeting all of the different residents and joining them when they most need support and quality of life. She also looks forward to spending more time and developing deep bonds in her new role. Emily recognizes that the pandemic hit hard, especially to the residents at Redstone. She reassures that it is her privilege to work so close with residents and offer individual support.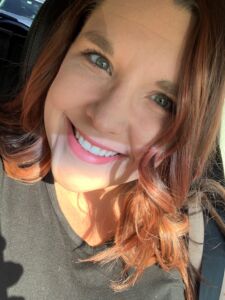 Congratulations to Karen Stock!
Redstone has seen a lot of change in the past 40 years, but one wonderful constant is Lifestyle Coordinator, Karen Stock! Karen has been with Redstone since the grand opening in 1980. We are thrilled to have such a sincere, caring, and amiable individual as part of the Redstone team.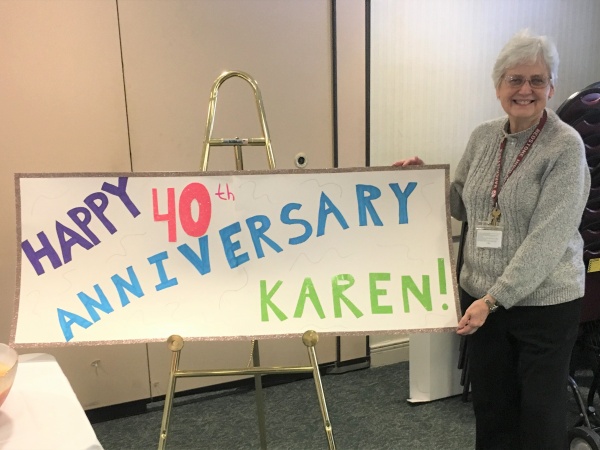 Congratulations to our nursing scholarship recipients! They celebrated the start of a new school year. Redstone is honored to share in your journey!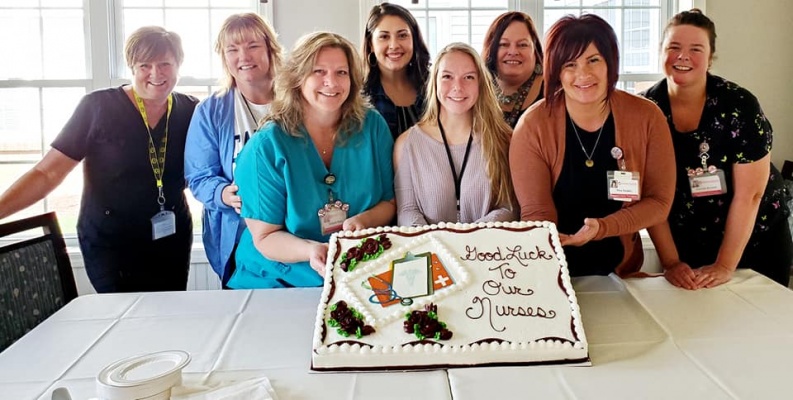 Redstone's Wonderful Employees Makes Us Happy
It's about making a difference for those who come to Redstone.  It takes many hands to create such a successful SeniorCare, providing top of the line care and the latest techniques.
97% of responding residents would choose Redstone as their home again. Our nurses, housing assistants, activities, maintenance, corporate, housekeeping, gift shop, and others work hard to make Redstone a happy place!
Click "here" to see just how happy that makes us!
DOVE Recognition
Redstone recognizes the achievements of employees in both their professional and personal lives.  Through the DOVE (Distinction of Visible Excellence) Awards, employees receive recognition for these achievements.  Employees can be nominated for DOVE Awards by a co-worker, supervisor, resident, family member or visitor.  If you've witnessed an employee going "above and beyond" while serving our residents, their families, or fellow staff members, click *here* to submit his or her name for DOVE Recognition.
Scholarships
Redstone offers four scholarships to two area schools for full-time students.
University of Pittsburgh Greensburg Campus – one full (4 year) nursing scholarship
Westmoreland County Community College, Youngwood Campus – two full (2 year) nursing scholarships
Westmoreland County Community College, Youngwood Campus – one full (2 year) HVAC scholarship
For more information about the Scholarship Program or an application, please contact Vicki Loucks or Kathie Brean.
CNA Nurse Aide Training at Redstone
Redstone is pleased to offer Nurse Aide Training, leading to successful careers in healthcare. The Nurse Aide Training program is conducted by a professional licensed nurse. This offers the opportunity for individuals to learn skills and prepare for the state exam leading to a rewarding career as a Certified Nursing Assistant. The training program typically lasts three weeks and includes both classroom and clinical training. Individuals can work up until the class begins. If you would like to apply for the next training program, please visit the page listing the available positions and search for Student Nurse Assistant Training opportunity. You may also contact the human resources department for additional information.