Senior Living and Supportive Care Community in North Huntingdon, PA
Redstone's Senior Living Community Near Irwin, Pennsylvania
Are you looking to live in a community where you know your neighbors and where neighbors become friends? Redstone is a great choice! Our North Huntingdon campus has several senior living options to choose from.
Independent Residency Programs
Our independent residency programs are designed for seniors who are ready to right-size their homes and eliminate home maintenance responsibilities. Have more time to enjoy hobbies, pursue interests, and spend time with friends. Our campus, located in North Huntingdon, offers independent living programs in both our villa homes and senior apartments.
Villa Homes
Experience the advantages of maintenance-free living. At Redstone, both indoor and outdoor maintenance services are included in our villa home program. Routine maintenance and repairs are provided for heating & plumbing systems and included appliances. Outdoors, Redstone maintains landscaping and lawns, provides snow removal and maintains the home's exterior.
Our villa homes are conveniently located near shopping areas and restaurants. Our clubhouse has a well-appointed library, fitness center, and large and smaller spaces for both private and Redstone-sponsored events. Villa residents have peace of mind knowing they have priority access to our full continuum of care, including our personal care, memory care and skilled nursing & rehab center.
Senior Apartments
Our apartments come in various styles and sizes, including fully-appointed kitchens with ample storage space. Residents enjoy using the Arts & Crafts room to work on projects or to get together to play cards and other games with friends. Guided fitness classes focusing on strength and balance are held multiple times a week. The 24-hour fitness center has equipment for a full-body workout. Other amenities include restaurant-style dining for breakfast, lunch and dinner in the Veranda dining room, an onsite beauty/barber salon, a library and a gift shop.
Our independent living apartments offer both residency and rental programs. Rentals do not require a long-term commitment, as contracts are reviewed for renewal on a year-to-year basis. However, our residential program provides a plan for life, with peace of mind for both residents and their families, as residents have priority access to all the services and levels of care available within the Redstone continuum, providing a pathway for one's entire life plan.
Personal Care Options
Redstone offers two types of personal care on the North Huntingdon campus.
Courtyard: Our Courtyard personal care program is a licensed personal care program with a team consisting of nurses, aides, and lifestyle staff offering support with bathing, dressing, transfers and medication management. Residents enjoy specially modified fitness programs, social programs, entertainment and educational presentations.
Terrace: Redstone's Terrace personal care program is specifically designed for individuals living with dementia. Our Terrace living environment is an award-winning design with an architectural layout that includes open floor plan community areas, indoor and outdoor walking spaces, and spacious private and semi-private suites, each equipped with a full bath. All suites feature large windows that allow natural light to fill the room. Built-in display shelves are the perfect spot for photos and mementos that hold meaning for the individual.
Events Around Our Neighborhood
While there is plenty to do on the campus, Redstone's North Huntingdon location is only minutes from downtown Irwin, home to many shops and restaurants. Our residents enjoy visiting Indian Lake Park, the Lamp Theatre and Greenhouse Winery. Residents also enjoy fun events throughout the year, such as:
Music in the Streets
The Irwin Farm Market
Chili Cook-Off
Art & Jazz Night
Gig on Main
Light-Up Night
Car cruises
Fall and summer craft shows
Schedule Your Tour Today
If you live near or in North Huntingdon or Irwin, PA, we invite you to come in for a tour to see for yourself why more people are choosing to live in a Redstone senior living community. Just complete our online contact form or call 724-733-9494 and state that you are interested in the North Huntingdon campus. We look forward to hearing from you!
View Our Virtual Tour
North Huntingdon
12921 Redstone Drive
North Huntingdon, PA 15642
Just off of Lincoln Way
Phone 724-864-5811
Fax 724-864-3618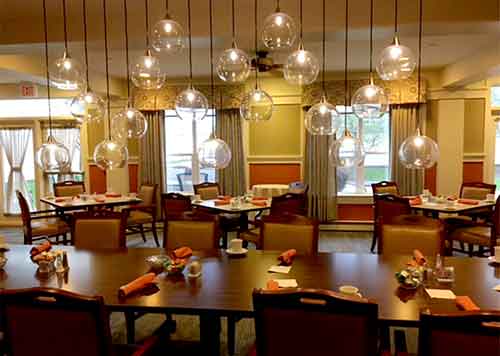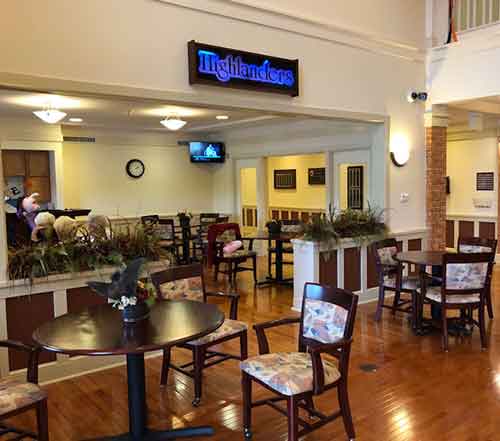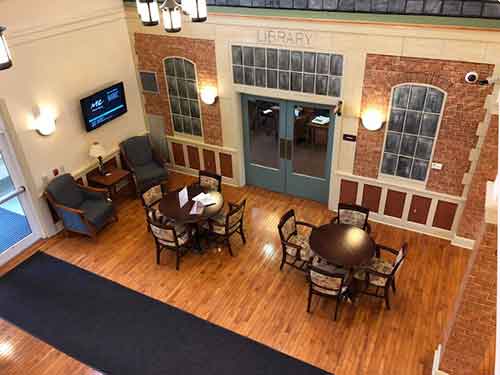 View Our Campus Location and Services