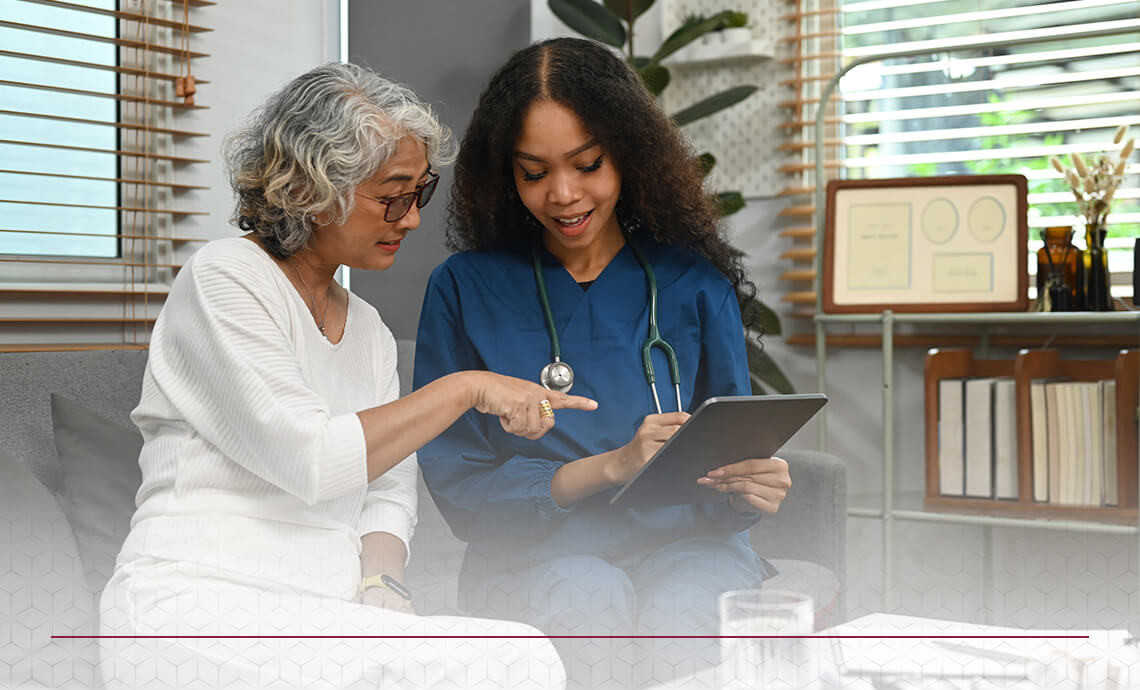 What Is the Baby Boomer Health Care Crisis?
With many baby boomers reaching retirement age, our health care system must adapt to support their needs. This generation received its name when couples began having an influx of children following World War II. As children, this generation was a vast part of the population, growing to become one of the largest generations in America. Now, the large numbers of retiring adults are currently affecting the health care system.
As millions of baby boomers need care services, the workforce and health care industry will face increasing challenges to ensure the health of the nation. Redstone, a leading continuous care retirement community in the Pittsburgh area, is responding to the needs of this generation by offering a life care plan that provides quality housing options and services necessary to accommodate baby boomers now and as their needs change over their lifetime.
The Baby Boomer Generation's Effect on Health Care
As of late 2020, about 40% of baby boomers had retired from the workforce. Millions of baby boomers are retiring each year, leading to an increase in health care expenses that could soon be more costly than what most people have in their savings. Medicare eligibility is currently on track to increase to more than 69 million people by 2030, creating an annual cost of just below $260 billion in the same year. With this change in finances, health care workers are growing concerned about the ability to provide quality and affordable care.
On top of the growing retirement numbers, many baby boomers face chronic conditions like heart disease, diabetes, high cholesterol and hypertension that require expensive care and treatment. Growing caregiver and prescription drug costs, coupled with the need for assisted living facilities, put many people in a compromising position that leaves them unprepared to pay health care costs.
The Current Demand for Senior Care Services
Understanding the current need for care services and the growing number of baby boomers who will need assistance in the future can help identify the crisis we're entering. Here is information about the current senior care service demands:
Although baby boomers will need some form of assistance in the future, many of them cannot access the care they need. With rising costs and an increased need for procedures and treatments to help chronic conditions, the overall cost of health care is out of reach for many families and individuals.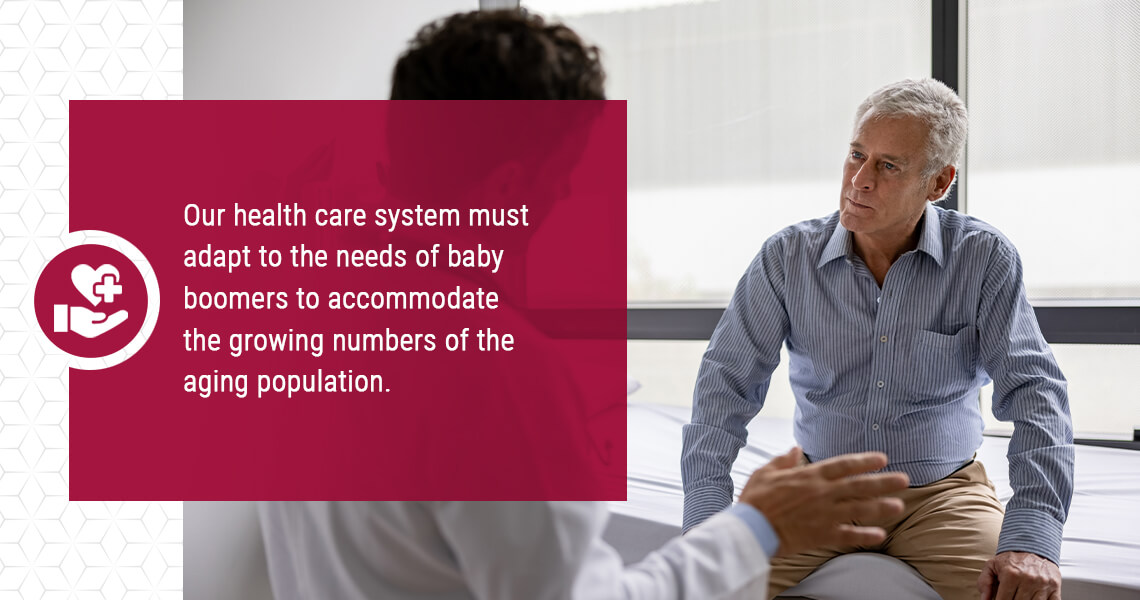 Addressing the Baby Boomer Health Care Delivery
Our health care system must adapt to the needs of baby boomers to accommodate the growing numbers of the aging population. Thankfully, there are a few steps we can take to get ahead of the problem, but we must act quickly. Here are some practical steps we can consider:
Growing the Health Care Workforce
Many baby boomers held positions in health care industries. As they retire, more leaders must rise in the industry to close the gap. We're already seeing a shortage of social workers, nurses, pharmacists and health care aides, so getting ahead of the curve could help us address the baby boomer crisis. Long-term care facilities, hospitals and clinics can use additional hands to help accommodate those in retirement.
Training Providers for At-Home Care
Baby boomers prefer to stay at home rather than move into assisted living communities and skilled nursing facilities. This generation values independence, but they can face loneliness and struggle to complete tasks such as taking medication or getting proper nutrition. Health care professionals need to incentivize geriatric care and similar caregiving roles to accommodate these stay-at-home retirees.
Professionals in the industry must understand the intents and purposes behind each piece of technology. Many facilities will need to dedicate time to properly train their employees how to work with new technology and understand its importance. With the correct preparation, the industry can save time and money while making care more accessible for baby boomers.
Leveraging New and Mindful Technologies
Technology advancements like telehealth appointments and encrypted storage through the cloud make it possible for baby boomers to easily access their treatment plans or medical records and connect with doctors in real-time at home while saving money and time.
Developing Affordable and Dignified Residential Communities
Although many baby boomers enjoy staying at home, the need for care facilities will grow as they need more extensive care. Assisted living facility capacity will likely increase over the years, and the creation of modern, functional and dignified communities will likely become more attractive to this independent generation as they age in their golden years.
Indoor and outdoor recreational facilities, cultural events and communal cooking can be desirable for many baby boomers. Additionally, flexible financing options such as room sharing for couples or roommates can help lower costs while raising satisfaction. Creating spaces separate from traditional retirement community images can generate a sense of togetherness that promotes community in a more neighborhood setting rather than a hospital one.
Streamlining Workflow and Schedules
Labor is a significant expense in the health care industry. Offering extended evening or weekend availability is convenient for residents but costly for businesses. Streamlining the processes from check-in to discharge can save money and time and help prevent residents from obtaining additional illnesses or diseases from other residents. Optimizing surgery schedules and filling exam rooms can better keep appointments moving and ensure residents get the care they need without the additional facility costs.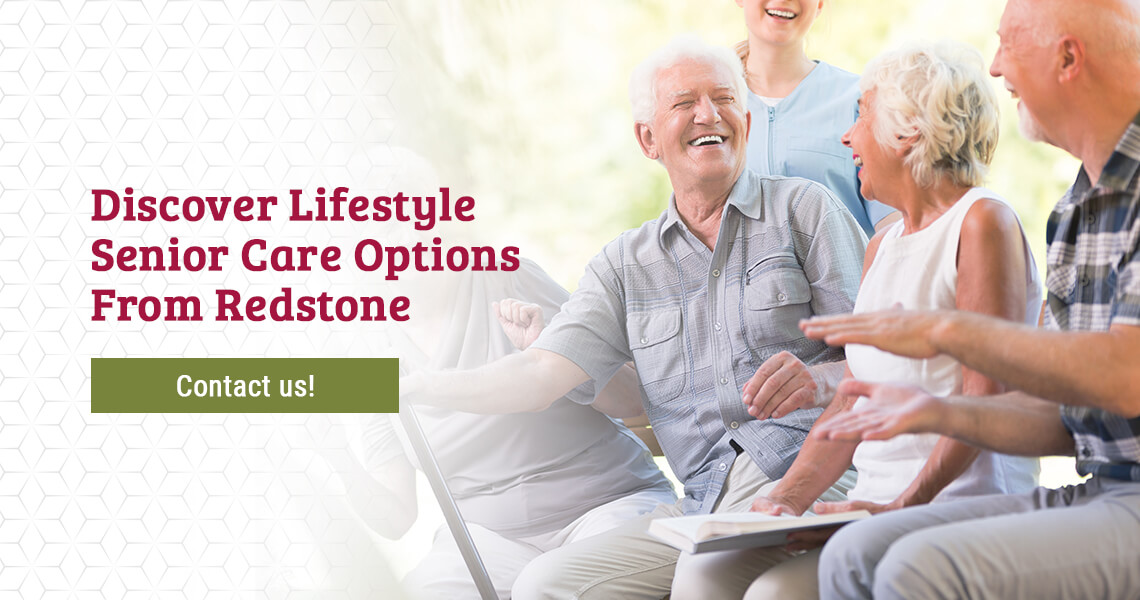 Discover Lifestyle Senior Care Options From Redstone
Redstone offers high-quality care options that fit residents' lifestyles as their needs grow and change. We provide an environment for older adults to engage with others in a community setting while affording them priority access to assisted living, home health care and rehabilitation. Our convenient locations offer easy access to quaint downtown shopping, local eateries and small-town charms. As a nonprofit, Redstone's Benevolent Care Fund provides assurance to Redstone residents that, should they exhaust their financial resources through no fault of their own, they will continue to receive the housing and care they need throughout their lifetime.
We have three distinct communities in Pennsylvania near Pittsburgh to accommodate adults 55 and older. We're committed to delivering the best housing options with amenities and care options to meet the unique goals and needs of our seniors.
Our good reputation is the direct result of years of providing quality and reliable senior services and housing. We understand that needs change, which is why we offer a vast variety of living options, including independent care choices. memory programs, hospice, home health, advanced personal care, and nursing and rehabilitation.
Contact us for more information about our living communities and care options to find the best fit for any lifestyle.