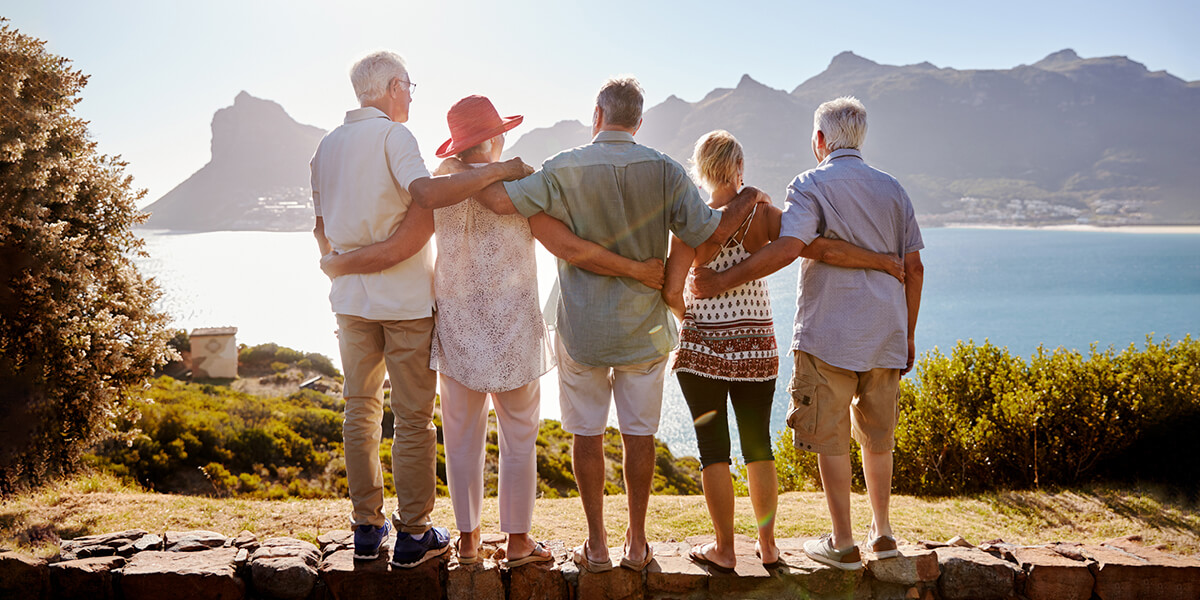 Retirement is an excellent time to explore new interests and places. When considering where to settle down, ensure you'll love the location. Pittsburgh is one of the best places to retire in Pennsylvania, and you can learn why in this guide.
Why You Should Consider Retirement Near Pittsburgh
Pittsburgh's dynamic urban center has welcomed people for decades, and this city has grown to accommodate one of the nation's largest aging populations. There are ample reasons older adults love this area. The friendly faces, diversity and low living cost make an ideal environment to explore new opportunities.
1. Great Cost of Living
Pittsburgh's cost of living is one of the most significant reasons you should consider retiring in this area. Pennsylvania offers many places for older adults to enjoy their golden years, and this city ranks as No. 8 in the most affordable places to retire. This ranking considered median home value, home prices, transit score, walk score, state taxes, median income and more to determine the best place to live, showing Pittsburgh's financial draw.
The Pittsburgh area's competitive cost of living and low tax rate create a welcoming place for everyone. If you're looking for a comfortable, affordable place to retire, the Pittsburgh area should be at the top of your list.
2. Enjoyable Attractions
Western Pennsylvania features attractions for people of all ages. Long-term Pennsylvania residents and transplants from other states have many amenities to explore near Pittsburgh. This city is a beautiful melting pot of cultures and history. Retiring should be an exciting time, especially with the opportunity to discover new things.
State parks: The Pittsburgh area has multiple green spaces for community members to embrace. Whether you want to camp, kayak, hike, boat or walk, you can connect with the great outdoors just a few miles from the city.
Museums: Art and history lovers will appreciate the vast selections in Pittsburgh. From the Carnegie Museum of Natural History to the Andy Warhol Museum, you can discover new people, locations and fun activities. Locations such as The Westmoreland Museum of American Art create an inclusive, kind and collaborative space to inspire people to get together. Here, you can share and discover meaningful and cultural experiences to uncover new ideas and perspectives.
Marathons: Pittsburgh is no stranger to marathons and all-day events. You'll find races, bike tours and walkathons in various locations within the city and surrounding areas. Whether you want to participate or cheer on the competitors from the sidelines, there's always something to do and see.
There are also several family attractions where older adults can enjoy the day with their children and grandchildren. To start, visit the Pittsburgh Zoo and PPG Aquarium. With nearly 80 acres to explore, these venues may take multiple trips to explore.  They're very walkable and fun for people of all ages.
3. Excellent Health and Medical Care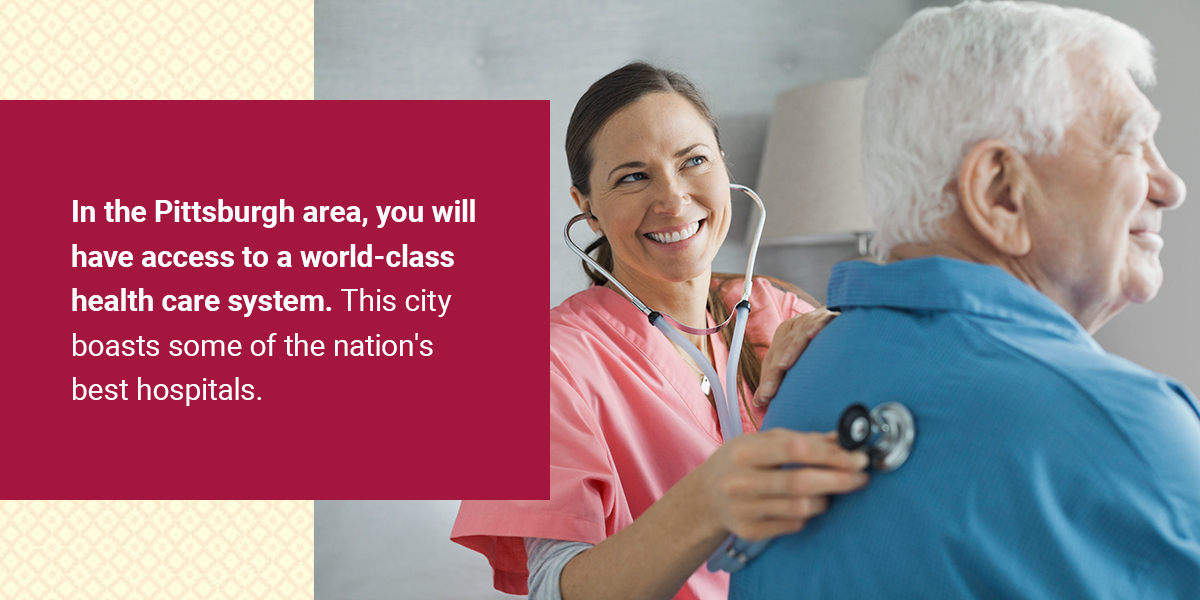 In the Pittsburgh area, you will have access to a world-class health care system. This city boasts some of the nation's best hospitals. Easily contact specialists who can give you quality care and find primary care physicians ready to make a lasting connection. With hospitals, clinics and independent providers' offices nearby, you can be sure you'll always receive the attention you need and deserve from some of the finest professionals in the country.
4. Delicious Food
On top of the fun entertainment, you can find your new favorite food in the Pittsburgh area. With cuisine from top-tier sit-downs to your favorite fast food, your choices are limitless. Enjoy pierogi, smiley-face cookies, pepperoni rolls, pizza and potato patch fries. When you crave something more elaborate and refined, visit the Strip District for upscale dining. With plenty of restaurants only minutes away, you can always spend time with your family, gather with new friends or treat yourself to a delicious bite.
5. Deep Culture and History
Pittsburgh welcomes diversity, and you can meet all kinds of people throughout the city and celebrate your differences while learning more about those around you. Westmoreland County features an array of attractions that connect Pittsburgh residents and visitors with history and culture.
The Palace Theatre has been operating for generations, driving the cultural scene and bringing entertainment to people from all walks of life. Here, you can enjoy the largest variety of entertainment in the area within a beautiful building in downtown Greensburg. Whether you want to watch ballet, listen to the Westmoreland Symphony Orchestra or treat yourself or your family to a concert, you can find all this and more at The Palace Theatre.
Those looking to get in touch with history can visit Hanna's Town, a site that was active in the American Revolution and is now a time capsule depicting frontier life. Throughout the years, Hanna's Town has rebuilt memorable structures, like Hanna's Tavern and a Revolutionary War fort. Hanna's Town offers a classroom, library, exhibit gallery and education center for visitors to find connections in the local history
6. Desirable Climate and Environment
Most people think they have to choose between rural life and big-city adventures. However, the Pittsburgh area offers a taste of small-town life while providing city access whenever you need it. Pittsburgh creates the Golden Triangle with the Monongahela River and the Allegheny River as they form the Ohio River. With water access and hilly terrain, Pittsburgh offers a desirable atmosphere for many people.
You can also experience all four seasons throughout the year. The changing autumn leaves and soft, snowy winter are awe-inspiring. You can see lush greens blooming alongside lovely flowers during the warmer months. Average summer temperatures can reach highs in the 70s and 80s, and winters allow a cool reprieve, falling to an average between 20 and 30 degrees in the coldest months.
7. Outstanding Retirement Communities Near Pittsburgh
Many retirement communities throughout the greater Pittsburgh area let you make new friends and live at your preferred pace.
Redstone has been serving seniors since 1980. With a full continuum of living options seniors in Greensburg, North Huntingdon and Murrysville can enjoy living only miles away from the vibrant urban environment of Pittsburgh.
Our three distinct locations offer a range of senior care options, amenities and housing. With us, you can find both villa homes and independent apartments, and personal care suites and apartments to fit your lifestyle, high-quality conveniences and a team of knowledgeable professionals ready to transform your retirement experience.
Find Senior Care in Pittsburgh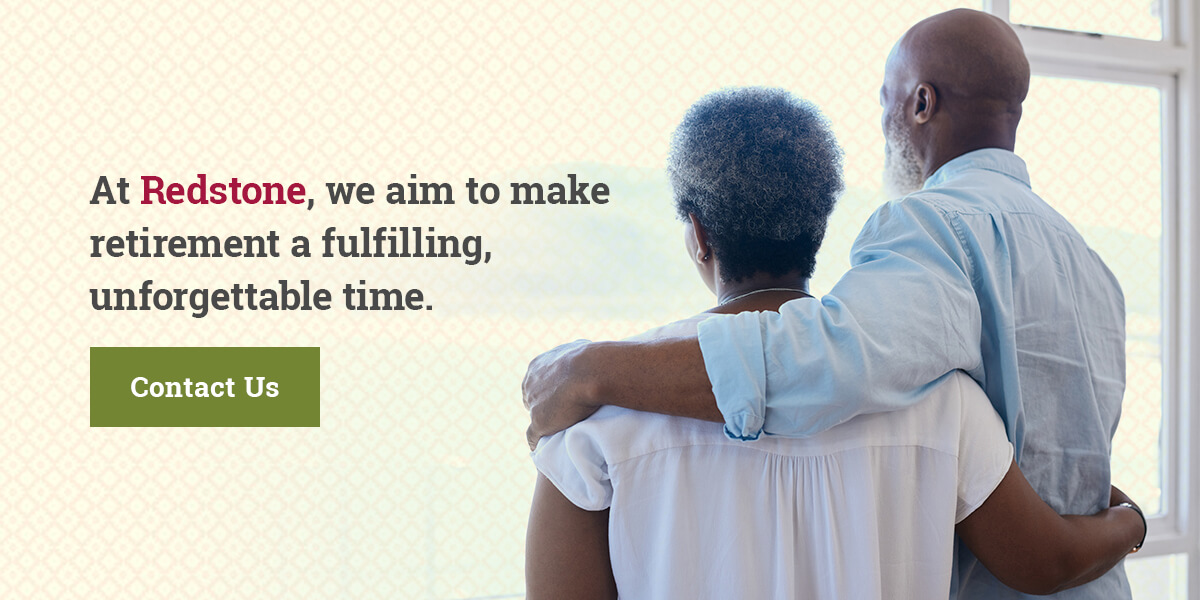 At Redstone, we aim to make retirement a fulfilling, unforgettable time. Our comfortable community setting is perfect for older adults seeking an engaging living option while enjoying their alone time.
Our Greensburg campus is home to our state-of-the-art Brenzia Wellness Center and has multiple dining venues.  Nestled in the heart of Greensburg, residents enjoy the historical, cultural and shopping districts nearby. Our Murrysville campus offers easy access to downtown Pittsburgh, but has a rural feel with walking trails, parks, shopping and several dining options just minutes away. North Huntingdon is home to our villa home neighborhood, complete with a community clubhouse and plenty of spaces to spend time with friends and family. The main building houses our independent apartments and personal care suites and apartments and offers a beautiful library, dining room, fitness center and arts and crafts room.  All three locations have beautiful chapels that are used for worship, lectures, entertainment and group fitness classes.
With a variety of independent living and personal care options along with nursing and rehabilitation services, you'll find all you need and more at Redstone. Learn more about our lifestyle options or contact us for more information.